WHAT MAKES THE TORRENT T2 BAG SO GREAT?


Torrent, noun
tor·rent | \ˈtȯr-ənt \
A tumultuous outpouring; a rush.

The naming process of our Torrent T2 Pro bag was…pretty straightforward. Although you'll usually see "torrent" used to refer to water elements: a torrent of rain; a torrential flood. We had a different rush in mind, though – the outpouring of strikes from participants in a group fitness class!
Several factors went into making the Torrent T2 ideal for group fitness classes, like:

It's big enough for two people to work on at once.
Sometimes, your classes get more popular than planned: your clients bring friends, their friends bring friends, and suddenly, you've double the population of your kickboxing class! What a great problem to have – until you run out of bags. You're not going to turn people away at your doors, so what do you do? Have people work in pairs on your Torrents!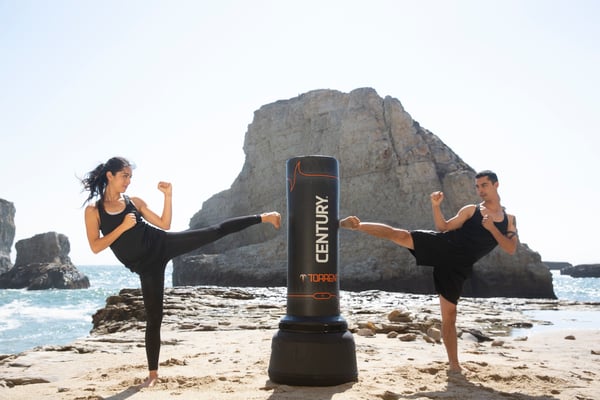 Have each set of partners stand on opposite sides of the bag, and punch away! It's even large enough that they can both kick at the same time (as long as their kicks are coming from opposite directions, and landing at the same time, to prevent any overlap that could cause midair foot collisions)!

Their base doesn't come unlocked, no matter which way you roll it.
Some bags screw into their base in a specific direction, either clockwise or counterclockwise. If you try and tip your bag onto the rim of the base and roll it by turning the bag, and you roll it in the opposite direction of how it screws into the base, it can come loose and have to be re-tightened before the user can continue striking.
Torrent, on the other hand, features a unique, patent-pending lock system that allows the bag to be rolled counter- or regular-clockwise without coming loose! (This also means it'll stay put if you've got heavy kickers repeatedly striking one side – something else that can cause bags to loosen).

The shape of the base itself is also streamlined.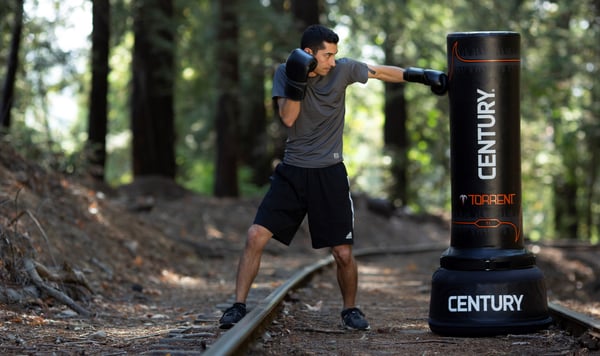 The diameter of the base isn't all that much more than the bag!
We know that every inch of space in your studio or gym is valuable! In that regard, freestanding bags are already way better than hanging bags. Hanging bags require holes drilled into the ceiling or walls and hardware for installation – and then can't be moved without requiring more drilling and hardware. Freestanding bags can be moved on or off the mat, and are usually stored in a corner, storage area, or up against a back wall. The determining factor for how many bags can be stored is the size of the base.
I mean, imagine a bag with a 5' diameter base. Not only would it be difficult to move, but how many could you easily store in a corner? Maybe two? Now, this example is strictly hyperbolic, but it stands to reason that the more whittled down the base's diameter, the more efficiently you can store them. At a slender 24", the diameter of the Torrent bag is one of the best!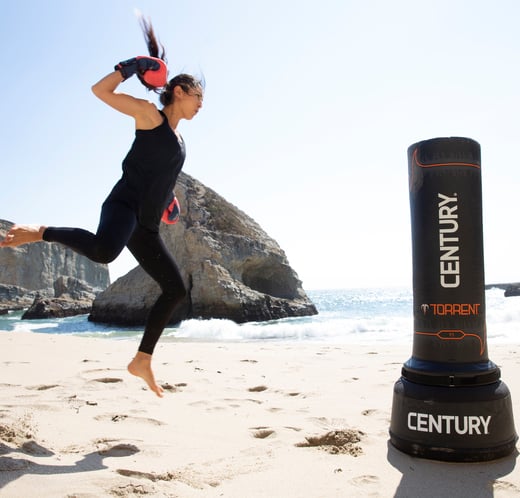 It has nifty accessories –
Like the Torrent T2 Floor Saver! The Floor Saver zips on around the base of the bag and has a grippy-textured underlayer to help reduce the chance of scuffing your floors. It also helps to muffle noises made by the plastic base hitting or rocking against your floor – because your classes need to be able to hear A) your instructions, B) the pump-up music they're jamming out to, and C) definitely not the thud-thud-thud of a base bouncing around.

Whether you're looking to spruce up your existing program with new bags, or start a popular boxing or kickboxing class for the first time, you definitely owe it to yourself and your clients to look into the Torrent! They'll have a blast getting toned, burning fat and building muscle while kicking butt bag!